Plaque unveiled in memory of two Dublin firefighters killed in service 132 years ago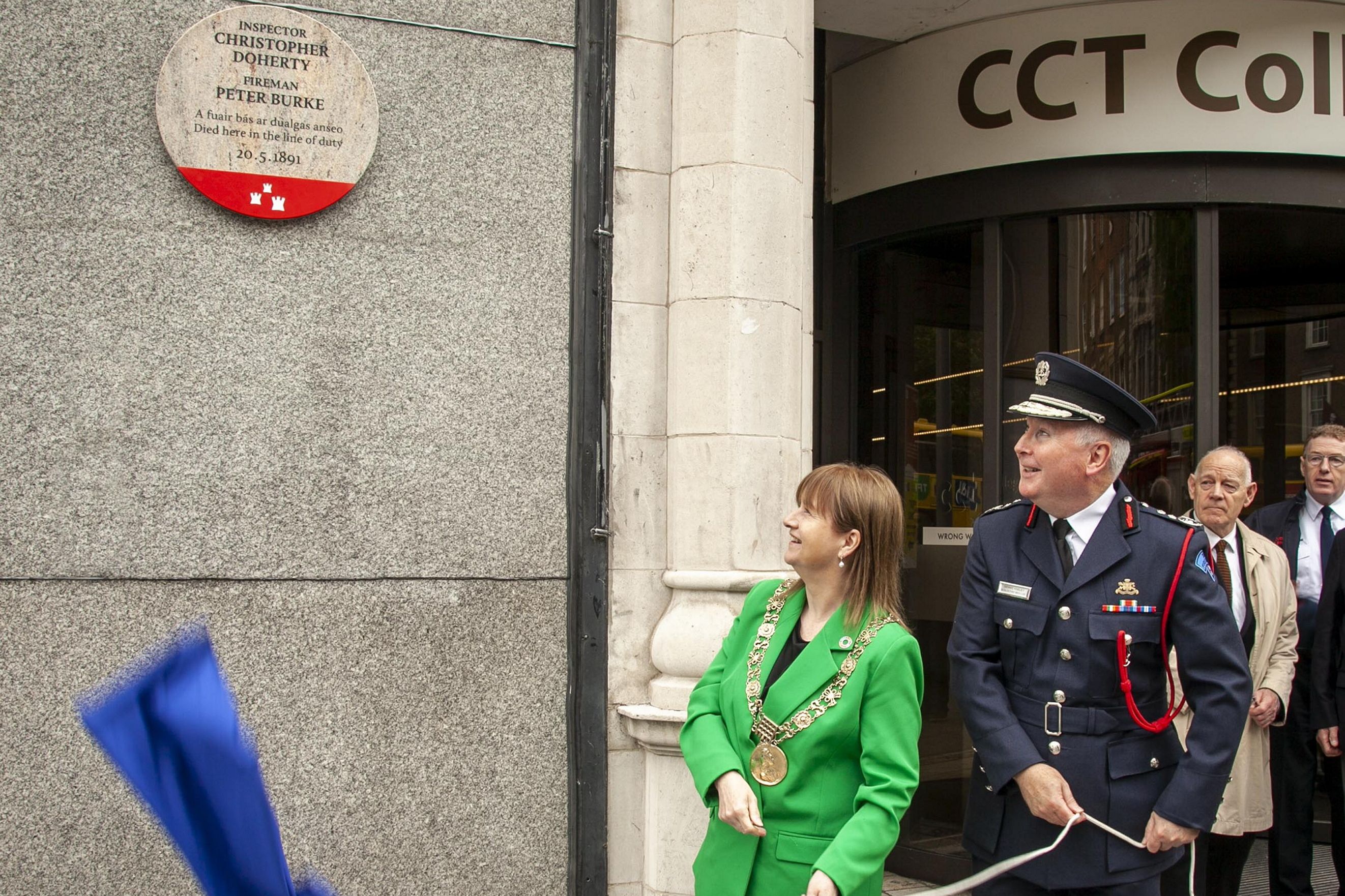 Inspector Christopher Doherty and Fireman Peter Bourke paid the ultimate price in their role as firefighters while saving the lives of two women on May 20, 1891.
Mr Doherty had 25 years of service in the Dublin Fire Brigade and was the holder of three chevrons for bravery for saving life on previous occasions, while Mr Bourke had three months service in the Dublin Fire Brigade.
The two men died on active duty while responding to a fire at Graham's chemists and Lafayette's photographers, now part of CCT College on Westmoreland Street.
Graham's chemist occupied the first two floors, with Lafayette's photographers on the next two. There was living accommodation on the fifth floor.
The fire broke out at about 2am on the third floor while four people were in the living accommodation above on the fifth floor.
On discovery of the fire, two people manage to escape to the street and raise the alarm. However, two women were still trapped on the fifth floor.
As the plaque was unveiled today, Chief Fire Officer Dennis Keeley paid tribute to the "sacrifice of those who went before us".
"The Dublin Fire Brigade is a well-respected, progressive, forward-looking fire, ambulance and rescue service which trains and prepares for the needs of today's city and plans for the future," he said.
"In doing so, however, we are also very aware that expertise is born from experience.
"We are very much aware of the heritage we inherit, a heritage born from the history, work and sacrifice of past members – of lessons learned in the heat of fires and emergencies gone by – and sometimes in the sacrifice of those who went before us .
"This, the first in a planned series of four Dublin Fire Brigade related plaques marking places where Dublin firefighters lost their lives while on duty, is being erected to mark the site of the death of these two Dublin Fire Brigade members on May 20, 1891 ."
Speaking at the unveiling, Lord Mayor of Dublin Caroline Conroy said: "In unveiling this plaque today we remember the sacrifices made by two brave firemen in the service of their city and its citizens.
"In doing so we are also acknowledging the great service that their successors in today's Dublin Fire Brigade give to our city, day in and day out."