CSI Vegas star Matt Lauria on Josh's 'thrilling and terrifying' final moments in season 2 finale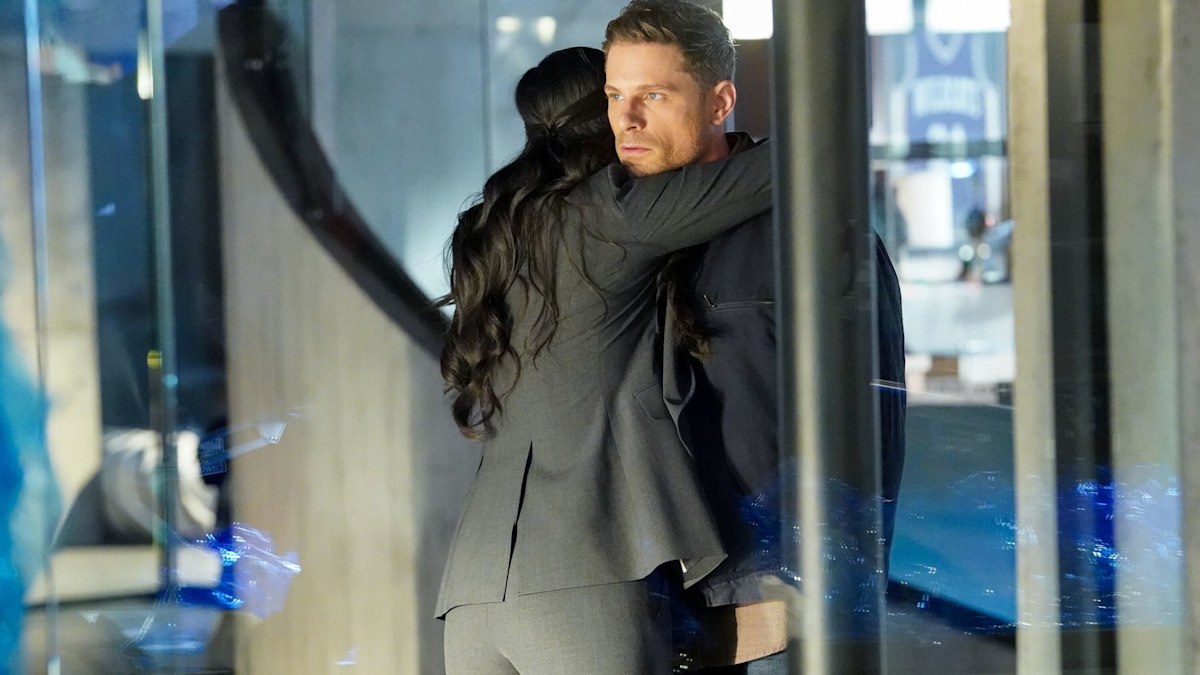 CSI: Vegas fans were left shocked on Thursday May 18 when they saw Josh Folsom (played by Matt Lauria) taken into custody by Detective Serena Chavez (Ariana Guerra), Josh's girlfriend, after they found the dead body of the man who murdered Josh's mother .
The devastating season finale saw Josh go out on his own, with some help from former childhood best friend Trey, after he was taken off the case by the CSI team led by Max Roby (Paula Newsome). Josh kidnapped and tortured a man to find the truth of who had killed his mother – who had been involved in a drug trafficking ring – only to discover that the man he had taken was the killer all along.
It remains unclear who actually murdered the man, but in the closing moments, a calm but devastated Josh places a picture of his mother on his car's hood and walks towards Serena and Max who raced to find him.
"I could have killed him for sure," Matt tells HELLO!, as he praises the show's writers for giving him "solid gold" to work with. "I am amazed at what they're getting away with in respect to characters and relationships," he adds.
Season three has been greenlit for the CBS show but amid the ongoing writer's strike, the show may not return for season three until 2024 at the earliest.
MORE: CSI Vegas star Matt Lauria on why Josh and Allie's potential romance is 'terrifying'
Were you given this backstory for Josh ahead of time, and did that tell how you played it?
Matt: I had some murmured conversations with our great leader Jason Tracey who deftly directed the episode, and when I read the scene I thought to myself, 'Well, I better be on my best behavior because maybe I will need to renegotiate [my contract]!'
MORE: CSI: Vegas star Paula Newsome shares what Black joy means to her – and the teacher that helped her to express it
Last year there was a rare gift – because Jason Tracy was seldom on set – and one time he knocked on a trailer door and he said, 'Do you want to know what's going to happen this season?' He went through with the cast one by one, and gave us a sense of where big character moments might land throughout the story and so I had a glimpse of this arc.
Then as we were nearing the end of the fall last year, Jason and I went out for lunch and I told him I wanted to do the right prep and so he gave me what I needed to know but particularly for the last three episodes of the season, because there's just so much important internal stuff going on with Josh.
Paula Newsome previously shared how she was given permission to make Max her own, and gave input. Have you had the same experiences?
Matt: I haven't even asked because they've given me solid gold to sink my teeth into and I don't know what else I could have asked for. Jason is incredibly collaborative and I've had some ideas, but I trust him emphatically and I trust the room. I'm kind of amazed at what they're getting away with in respect to characters and relationships.
How does it feel as an actor to be given that kind of material?
Matt: The emotional and psychological stuff that I was given at the end of this season is as challenging and thrilling and terrifying as any material I've had in any project I've done.
When you're given a scene where you walk into the morgue and have to identify your mother… I'm getting goosebumps thinking about it because for me, I thought, I've got my work cut out for me.
Exclusive: 9-1-1 star Oliver Stark answers fan questions on TikTok, reality shows and photography
Exclusives: Anirudh Pisharody details return to 9-1-1 and the changes fans can expect
Where would you like to see Josh in season three?
Matt: I would like to see him behind a thick plate glass with that telephone in his hand!
But I really look forward to conversations with Trey, and in particular to conversations with Allie (Mandeep Dhillon), Serena and Max. There's some big conversations that need to happen.
Josh has so much admiration and respect for Max and there's some really serious conversations to have with her, and then obviously he will need to deal with the fallout with both women who are so close to him as well.
Read more HELLO! US stories here.